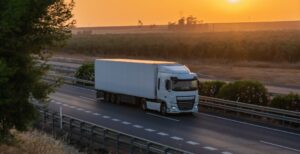 As a trusted provider of reliable transportation solutions, we understand the importance of maintaining the integrity of your temperature-sensitive goods throughout their journey. With our top-of-the-line reefer trucks and commitment to customer satisfaction, we are here to meet your refrigerated transportation needs.
Our Unparalleled Fleet of Reefer Trucks:
Cutting-Edge Refrigeration Technology:
 At Dubai Truck, we pride ourselves on equipping our reefer trucks with cutting-edge refrigeration technology. Our vehicles are equipped with advanced cooling systems that ensure precise temperature control, enabling you to transport perishable goods such as food, pharmaceuticals, and other temperature-sensitive items with utmost confidence.
Diverse Range of Capacities: 
We understand that businesses have unique transportation needs. That's why we offer a diverse fleet of reefer trucks with various sizes and capacities. Whether you require a small vehicle for local deliveries or a larger truck for long-distance transportation, we have the perfect solution to accommodate your specific requirements.
Exceptional Performance and Reliability:
We understand that your goods need to arrive at their destination in pristine condition, and our well-maintained vehicles play a crucial role in achieving that goal.
Benefits of Choosing Dubai Truck's Reefer Trucks:
Precise Temperature Control: Our reefer trucks provide precise temperature control, allowing you to maintain the ideal environment for your temperature-sensitive cargo. Whether you need to transport frozen goods, chilled products, or maintain a specific temperature range, our vehicles ensure that your goods remain fresh and in optimal condition throughout the journey.
Advanced Monitoring and Tracking: 
With our advanced monitoring and tracking systems, you can have real-time visibility of your cargo's temperature and location. Our vehicles are equipped with state-of-the-art technology that enables you to monitor and track your goods at every stage of the transportation process, giving you peace of mind and the ability to respond swiftly to any potential issues.
Expertise and Professionalism:
 Our experienced drivers are highly trained in handling reefer trucks and navigating through various transportation routes. They prioritize the timely delivery of your goods while ensuring strict adherence to safety protocols and compliance with industry regulations. You can trust our team to handle your valuable cargo with the utmost care and professionalism.
Customized Solutions: 
At Dubai Truck, we believe in providing customized solutions tailored to your unique requirements. Our team of experts works closely with you to understand your specific needs and develop a transportation plan that best suits your business. From temperature-sensitive goods to specialized cargo, we have the expertise and resources to meet your individual demands.
Contact Dubai Truck Today: 
When it comes to reliable and efficient reefer truck services in Dubai, Dubai Truck is the name you can rely on. With our top-quality fleet, commitment to excellence, and dedication to customer satisfaction, we are here to provide you with the perfect refrigerated transportation solution. Contact us today to discuss your requirements and experience our exceptional service firsthand.